News
Instructions for how private people can control invasive alien plant species
23.06.2021 09:17 - Miia Jauni
Would you like to start controlling invasive alien plant species with your neighbours or tackle the Japanese roses growing in the surrounding area? Did you know that you need the landowner's permission to eradicate invasive alien species? Familiarise yourself with the basic principles of controlling invasive alien species and read tips on how to invite volunteers to help you with the task.
Control invasive alien species on your own property
Invasive alien species of European Union or national concern may not be grown. If an invasive alien species included in the list of the Union or the list of national concern has been planted on a property, the owner must remove the planting and dispose the plant parts to prevent reproduction and dispersal. Because it is prohibited to cultivate invasive alien species, the property owner or the party in possession of the area must eradicate invasive alien species on their property, including plants that have spread from their neighbours' properties or elsewhere from the surrounding areas. It is prohibited to release any invasive alien species into the environment in any way!
Control invasive alien species on the property of another party
The landowner's permission is always required when eradicating invasive alien species. In other words, it is not allowed to eradicate garden lupin or Japanese rose in public areas such as recreational areas and parks without permission. According to everyman's rights, people are allowed to pick flowers, seeds or berries, for example, but digging earth and weeding in an area owned by another party is not allowed without the landowner's permission.
Can a private person eradicate invasive alien species next to roads or railways?
Weeding or digging up garden lupins or other invasive alien species is not included in everyman's rights, but it always requires the landowner's permission. If you want to invite volunteers to eradicate alien species by a road, please contact the Traffic Customer Service for further information.
However, you can pick garden lupins on roadsides, for example, because picking flowers is an everyman's right. But remember that it is forbidden to go to the verges of motorways, motor-traffic ways or other roads with two lanes. In addition, it is prohibited to go to railway areas for safety reasons. Always pay attention to safety when moving on the verge of roads: park your car in a parking area or a lay-by, and watch out for other traffic.
If you observe invasive alien species along routes, always report them on the vieraslajit.fi website and/or contact the Traffic Customer Service.
How to control invasive alien species?
When practical problems have been solved and eradication permission has been obtained, what measures should be used to control invasive alien species? Management measures vary by species. There are instructions on this site on the cards describing different species. They also include links to videos and other publications concerning eradication. The most common invasive alien species:
Giant knotweed (N.B. Pay attention to appropriate protective gear when eradicating hogweeds yourself)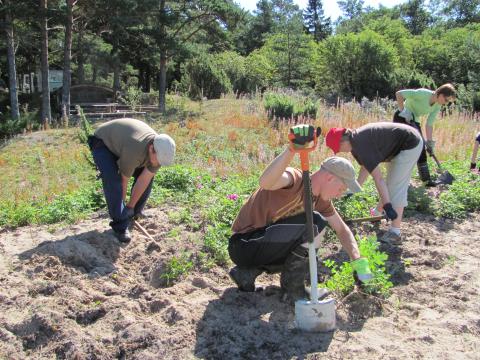 Control invasive alien species with volunteers
Invite your neighbours to control invasive alien species for the benefit of your surroundings and nature. However, everyman's rights do not cover the eradication of invasive alien species, so you have to have the landowner's permission to do it.
Before inviting volunteers to help you:
Find out who owns the land
Ask the landowner for permission to control plants
Find out how to control the invasive alien species in question appropriately
Learn how to dispose of plant waste
The easiest way to start eradication is to do it in an area owned by the municipality, the state or a private landowner you know. This way it is easy to agree what measures to use, where precisely to eradicate plants, and how to dispose of plant waste. You can contact the environmental protection authority of your municipality to get permission to eradicate plants on a piece of land owned by the municipality. If you want to eradicate plants with volunteers on the verge of a road, contact the Traffic Customer Service.
It is essential to pay attention to the disposal of plant waste when eradicating invasive alien species with volunteers. Plant waste must not be introduced to nature in any case. Seeds, rootstocks, pieces of root and stems of garden plants can spread to new locations with plant waste. Indeed, many invasive alien species have been spread into nature in garden waste.
If you are working on a piece of land owned by your municipality or city, you can discuss in advance with the local unit responsible for green spaces where to transport plant waste or how to dispose of it. Many municipalities are happy to take care of transporting such waste.
Take part in the Soolotalkoot campaign!
Soolotalkoot (in Finnish) is a national campaign concerning invasive alien species organised between 17 May and 22 August 2021. You can take part in controlling invasive alien species at a time and place of your choice. The purpose of the campaign is to encourage Finns to report their observations concerning invasive alien species and to eradicate such species from their yards and surrounding areas, as well as from locations determined by partner cities.
Participants can choose their own location or work in locations pre-determined by the partner municipalities. Visit the campaign site (in Finnish) and read how you can take part in it. You can also check if your home municipality is one of the partner cities and find out where its eradication location is.