Public Authority Portal
The Public Authority Portal (PAP) provides direct access to species information
Easily available information is used more often – one of the tasks of the Finnish Biodiversity Information Facility is to make species observation information more efficient and easier to use in public authority decision making. FinBIF launched the PAP in the summer of 2020, which is designed tool for authorities.
The portal provides the public authorities with direct access to all species data in a form as they have been recorded in their original source – without generalisation or hiding of data. In public open access portal, Species.fi, the data may be generalised due to research or conservation reason or by decision of the owner of the information.
Digital data sharing through a single service enhances the efficiency of information flows. When information does not have to be retrieved or requested from many sources, it is used more, for example in land use planning, conservation activities or evaluation of biodiversity values ​​in forest management activities. New observations recorded or imported to FinBIF from various sources is also available on the Public Authority Portal immediately, without delay. API services for machine actionability will also be built within PAP, through which observation data can be used directly from the authorities' own information systems.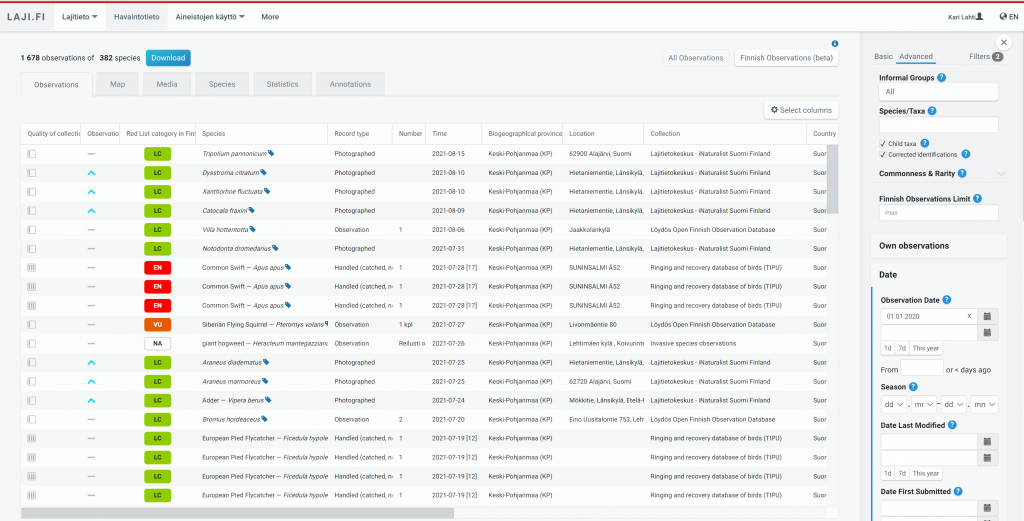 How to use the PAP?
The Public Authority Portal can be used by Finnish authorities who need species information to perform their work tasks, such as municipal environmental measures.
The major data contributors to FinBIF, The Finnish Environment Institute (SYKE), the Natural Resources Center of Finland (Luke) and Metsähallitus, together with the Finnish Museum of Natural History Luomus, approve the organizations wishing to use the PAP. The use of the portal is the subject of a standard agreement between the organization and Luomus. The organization shall designate a responsible person who shall be responsible for ensuring that the list of persons authorized in the organization is kept up to date and that all users have adequate knowledge of the conditions, rights and obligations associated with the use of the service.
The functions of the PAP comply with the Laji.fi portal, but are reduced by excluding the services that have no direct use for the authorities. In addition, PAP has other functionalities that support the efficient and effective use by the authorities. All traffic at the portal is logged and permanently stored by the FinBIF. Data downloads and related justifications are available to all authorized users. Applying these measures, the services of PAP are as transparent as possible to build the trust both for the user of the service and for the providers of the information.
The development of the Public Authority Portal is steered by the "Public authority working group" operating under the auspices of the FinBIF, and includes representatives from each of the participating organizations.
Further information: viranomaiset@laji.fi